, Mozilla Firefox, Opera etc, Search Engine Optimization Plugins or Extensions Helpful to Minimize your Working Time. Best SEO Extensions. Time-Saving Plugins and also helpful to Analyze website Easily. Listed Below Few Top Using and Helpful Plugins. all the Plugins are Free Available and show results quickly. Have a look at them.
Use Plugins To analyze your Competitors and Get an Idea How they did and do. Few Plugins are also helpful like a scrape your Competitors. They Give some info like, How many backlinks, title, description, keywords using, how many Social Signals to that specific page etc. They Are Very Helpful. This type of Ideas Useful for Our Site Improvements against competitors. We can do the best against them.
Mozbar Extension
One of the Top SEO Plugin is Mozbar. Mozbar is a free Chrome Extension that Helps easily to get advanced your  SEO metrics. With this SEO Plugin Very useful for Site analyze. DA (Domain Authority), PA(Page Authority), Links Can Easy Check With Mozbar MozBar. and also used to analyze the no follow, do follow, external and internal links easy with this extension.
Open SEO Stats
This is the Very Nice Plugin. This is used to analyze site Index status in Google, Bing, Yahoo, Yandex etc. How Many Pages index from that website. and Backlinks in Google. And also used to check Alexa Rank world, IP, hosting country, Web archive, External links anchor text and Many More options. Try This Plugin to Check SEO of the Website.
Chrome Extension
Firefox add-on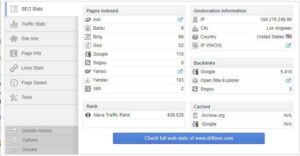 SEOquake Plugin
Another Wonderful Tool is SEOquake. Key SEO Metrics, Backlinks, GSC integration, SERP Overlay, On page SEO audit. Free and Easy to Check backlinks, External links, internal links. This one of the Tool can Export into CSV. This SEOquake not only used to Check Metrics but also Helpful to Scrape, Diagnosis data. Very Powerful Plugin to View Page Information.
Alexa Traffic Rank
This is a well-known plugin. Most of the SEO agencies and Persons Using Alexa Plugin. Simple Extension that Shows easy site Traffic rank, worldwide and Trafic rank of Specific Region of the Site. This SEO Tool also shows the estimated website loading speed, way back machine and Similar sites list. You can read about Alexa Toolbar
META SEO inspector
This Meta SEO Inspector Google Chrome Extension Revales Metadata of the URL. Open Graph, Schema, site Verification, Links, Canonical, Scripts, HTML Tags, Images with missing ALT attribute, Scripts using in URL, Microformat etc.
This Shareaholic is Social Sharing. Not only Useful to share in Social but also helpful share into blogs. Twitter, Facebook, Google Plus, Linkedin, printers etc. Option available in this plugin. No need to Add Extension to WordPress or your blog, This Chrome Plugin is fulfilled the sharing Option.
BuzzSumo
This Plugin is Very Nice Extension. BuzzSumo Website Social Facebook, twitter, google plus, twitter and Pinterest signals show. This Extension can be used to check an Estimated value of Social signals to that Specific URL. This Estimation is also Useful to how they(also competitors) sharing that Exact URL, How Many Times They Shared, How and which is most Thay Using to Gain traffic. Easy to Find Specific page most shared content, Signals.
also, Read Bulk URL Opener, Article Grammar correcting Chrome Plugin These 2 Plugins also very Helpful for Digital Marketing Peoples.