Here are the settings of WP Fastest Cache Plugin. Follow these options to get a speed boost of your Website. Better Performance grade is required for better rankings and conversions. 1second of loading may cause serious conversion rate fall according to online web optimization Survey.
That's why these type of simple speed optimization plugin helps in Speed up your site better than Before. Few Clicks only required in Performance growth of your site.
Select setting as i mentioned below. Enable Cache System, Preload, Minify HTML, CSS.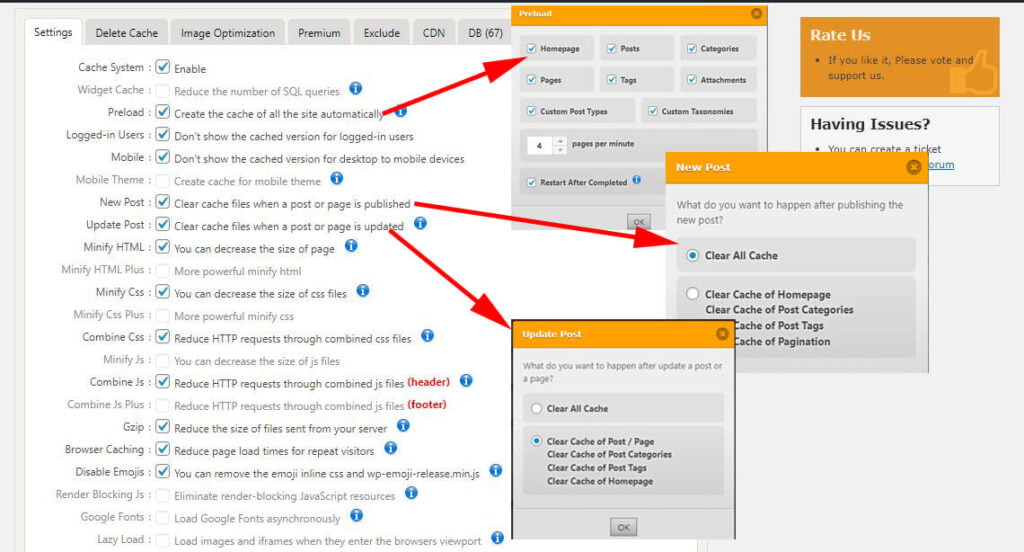 More options setting for better compression Only available in Premium version. Follow here to know more about WordPress optimization.
Google Speed insights Test
You can see below the results of website and mobile version after applying wp Fastest cache settings. When you need image compression to go with the plugins. I'm listing a few online image optimization sites list. Check these out.
Here are my Desktop version results of PageSpeed Insights. I Scored 100 in this page speed testing tool. I am very happy when i first time its showing my site score in Green Colour.
First contentful paint(FCP), First Input Delay (FID), LCP and CLS results just when using best Settings.
See here I got A(100%) with GTmetrix pagespeed score and Yslow just near 100 at 98% which is also Green Colour
Fully Loaded time is boosted to 0.8s and the Total page size is 210 KB. Requests form the site is dropped to 13 this is very better improvement.
Pagespeed GTmetrix chat with js, css and other list after using settings.
Pingdom tool is showing my results by Performance grade A and score is 93. Page size, load time and Requests are showing below with Pingdom test.
Home page content size by content type like images, css, HTML are only taking place for estimation in page grade. when we lowing these type of files you can get good Page Grade Scores.
Fast cache options with Cloudflare CDN
In WP Fastest Cache Options Go to CDN tab and Click on CDN by Cloudflare.
You will see a Popup which required your Cloudflare Email and API Key. fill the required fields. Know more from here.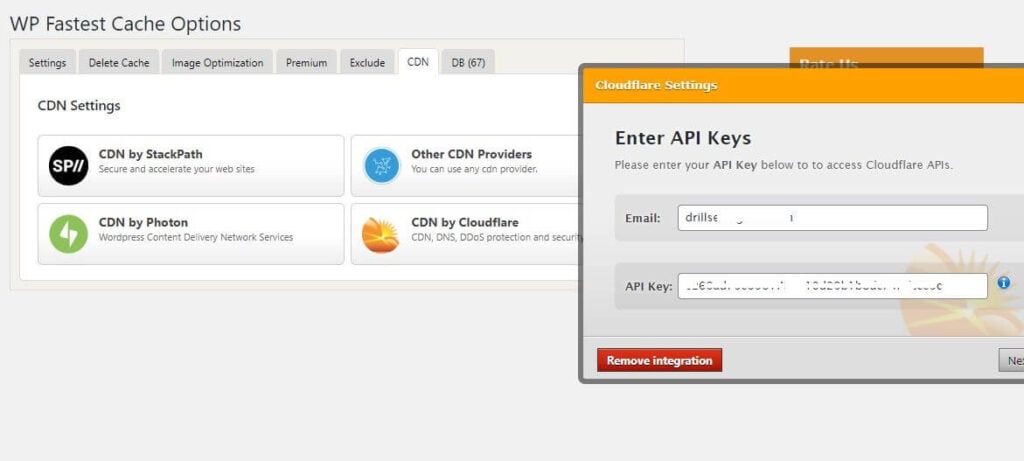 How to add Cloudflare API Key
Here you can find the API key in CloudFlare.
Login to you Cloudflare account
Click on You My Profile
Select API Token
Then click the Global API Key View button
Solve the captcha and Copy You API Key
Optimize Image Tool
Only available in Premium version Optimize Image Tool. This is a tool in WordPress a plugin which can compress images in You site.
Plans
Bronze is $49.99/License
Silver $125/3 Licenses
Gold is $175/ Licenses
For More Licenses Sign Up and Contact Them