Easy AdSense ads Manager plugin for WordPress by Google
Adsense Plugin To WordPress. This plugin by Google. This plugin is also known as the Google Publisher Plugin
With this Adsense plugin, we can easily manage Adsense ads in WordPress. No need to generate ad code and post it in WordPress From Adsense. This plugin automatically generates code to Adsense.
Don't search for where to add Adsense ad code in WordPress. Just use WP Adsense plugin
This AdSense Plugin allows you to:
Quickly add AdSense ads to your website to make money from advertising.
With one click, enable mobile-specific advert layouts with Automated Mobile Ads.
Manage your Ads with this wp Adsense plugin quickly and without problems.
Manually insert commercials in areas that you decide yourself.
Exclude pages from having advertisements on them.
Verify your site with Webmaster Tools with simply one click.
Best Adsense WordPress Plugin Manage ads in WordPress
How to add AdSense plugin to WordPress and Manage ads
There are two options to install Adsense plugin.
One is Download and install. the second option is Find in WordPress and install.
Method 1 to Install Adsense WordPress plugin
Download Google Adsense Plugin then go to your Dashboard WordPress Plugins> Add New > Click Upload Plugin > Choose AdSense zip file from your Pc > Instal and activate
The second method to install WP Adsense plugin

Select left side plugin > add new
Search Adsense in the search bar
Find and install Google AdSense, then activate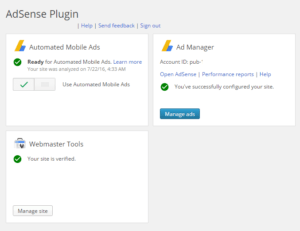 Verify your Adsense WordPress Plugin Manager using your associated AdSense by clicking on verify button.
Manage your Adsense ads with Adsense plugin
Manage your ads simple by clicking Adsense from Setting then Manage Ads button.
That analyze your site and shows red marked pins Select which place you want ads on your site.
Maximum 3 ads allowed per page.
We can select ad types(Text, Display, Text and Display ads)
Ad formats (Rectangular, Vertical, Horizontal) banners with that green left corner settings icon.
Also, Read Earn $100 with Adsense